About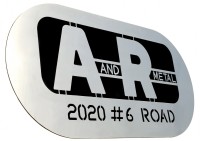 Founded in 1969, A&R Metal Industries is a multifaceted metal processing and fabricating company that is dedicated to excellence in the manufacturing of truck trims, accessories and other specialty parts including automotive, commercial finishings & architecture, exhaust & filtration, construction & agriculture and safety products.
We use state of the art equipment to produce a wide range of high quality products that meet or exceed our customer's requirements. A&R currently supplies of 65% of the North American Class 8 Truck market with stainless steel muffler shield, mirror brackets, grab handles and many other trim parts.
The A&R team includes professional engineers, technical personnel, draftspersons and programmers, skilled trades persons and highly qualified set-up and maintenance staff.
A&R provides expertise in design for manufacturing during product development, detail design, engineering, welding design and analysis, specialty tooling design and manufacture, as well as dynamic nesting integration, direct transfer of CAD files, and a MRP System that fully integrates and controls customer orders and manufacturing processes.